What is website?
A website is a collection of publicly accessible, interlinked Web pages that share a single domain name. Websites can be created and maintained by an individual, group, business or organization to serve a variety of purposes. Together, all publicly accessible websites constitute the World Wide Web. A website is also known as a web presence. It means presenting yourself or your business on web world to share information with other. Now websites not olny share information but also helps to grow your business.
Why Website?
Today more than 88% of people are looking online for various type of information. Every consumer research product information before they make a purchase. If you want your company to be successful in the modern marketplace, you've got to have a professional website. Your website is the backbone of your business, supporting all of your digital marketing efforts. It's not only backbone of business but also plays important role in every field, from education to entertainment, searching people to locating address, communicating to advertising.
If you have a business and don't have a website, you are losing out on great opportunities for your business. A website itself can be used to accomplish many different marketing strategies to help your business grow.
Why Us?
Pixerea Solutions as a leading website designing and development company based in Nagpur, India that offers a comprehensive list of services to meet all your web development needs. From domain registration to website hosting, from custom web designing of HTML, multimedia presentations, portals, maintenance and backend services and from development of e-commerce websites to setting up of Payment Gateways, We can provide anything you need to join this web world.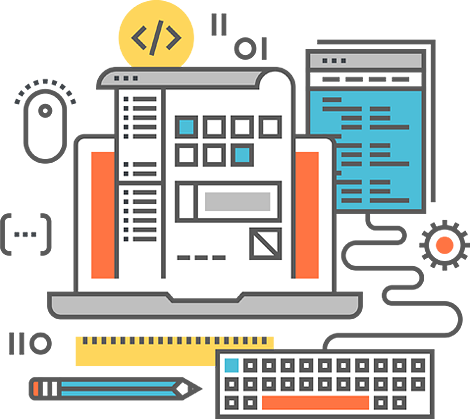 Our Website Development Fetures
User Friendly Design:

Look of any website is first & most important thing. It defines your business and every business is different . So while selecting design we always try to designig the layout as per your business requirement which can attract more and more user to your website.

Fully Responsive:

We always design mobile friendly fully responsive websites. No matter which device you are using. It is friendly with any resolution. Responsive design is the key feature of modern website.

Any Platform:

Our expert development team is experienced enough to work with different platform as per requirement. From static (HTML+CSS) websites to WordPress, Joomla, Drupal, Magento and other CMS. We are also capable to develop fully customized website with frontend and backend programming.

SEO Friendly:

Design and content we select for website is 100% SEO friendly. Which helps website to index on google search more efficiently and in very short time.

Cost Effective:

We asure you that you will receive best at most resionable prise.

On Time Delivery:

One of the most important asset of Pixerea Solutions is time bound delivery. We always deliver wokr before time, no matter how many extra hours we have to work.

24/7 Support:

Our dedicate support team is always ready to solve any issues related to website either it is server failure or any malware attack we try to restore your website as soon as possible.
Educatonal Website
Real State Website
Transport Industry
Packers & Movers Website
Small Business Website
Travel Agency Website
Event Management
New Mazagine/Portal
Corporate Website
E-Commerce Website
Matrimonial Website
Industrial Website
Portfolio Website
Photography Website
Agricultural Website
Charity/NGO
College Website
E-Commerce Website
Online Tutorials
Medical/Hospital Websites
Bloging Website
Product Catalogue
Food Production Industry
Search Portal
Staic Website
Dynamic Website
CMS Based Website
WordPress Website
Emailers Designing
Landing Pages
Website Hosting
Website Maintenance
Digital Marketing
SEO (Search Engine Optimization)
SMM (Social Media Marketing)
Content Writing
Google Ad words
Payment Gateway Integration
SMS Integration